It's the last day of spring break and we're dreading the end of a fabulous road trip. We've spent the last 7 days outside with our pup in absolutely perfect weather. Now it's time to pack up and head back to reality. Not before one last paddle. On our last morning of spring break we packed up camp and drove to the Ferry Landing Boat Launch for a paddle on the bay of Assateague Island in Maryland.
Where to paddle on Assateague Island
Assateague Island National Seashore is located in both Maryland and Virginia. The skinny barrier island crosses the state border, but sits more heavily in Maryland. We camped on the ocean side of the island, which was unbelievable. We loved camping here!! You can read more about our camping experience in our Camping on Assateague Island post. You could technically canoe right there in the ocean, but open water like that is rarely that exciting and the waves will keep bringing you into shore. Driving across to the other side and using the boat ramp into the bay was a perfect put-in spot. Crowds were gathered around to capture photos and stare in amazement at the famous Assateague Island wild ponies who parked themselves close by the boat launch.
Paddling with the ponies…well sort of…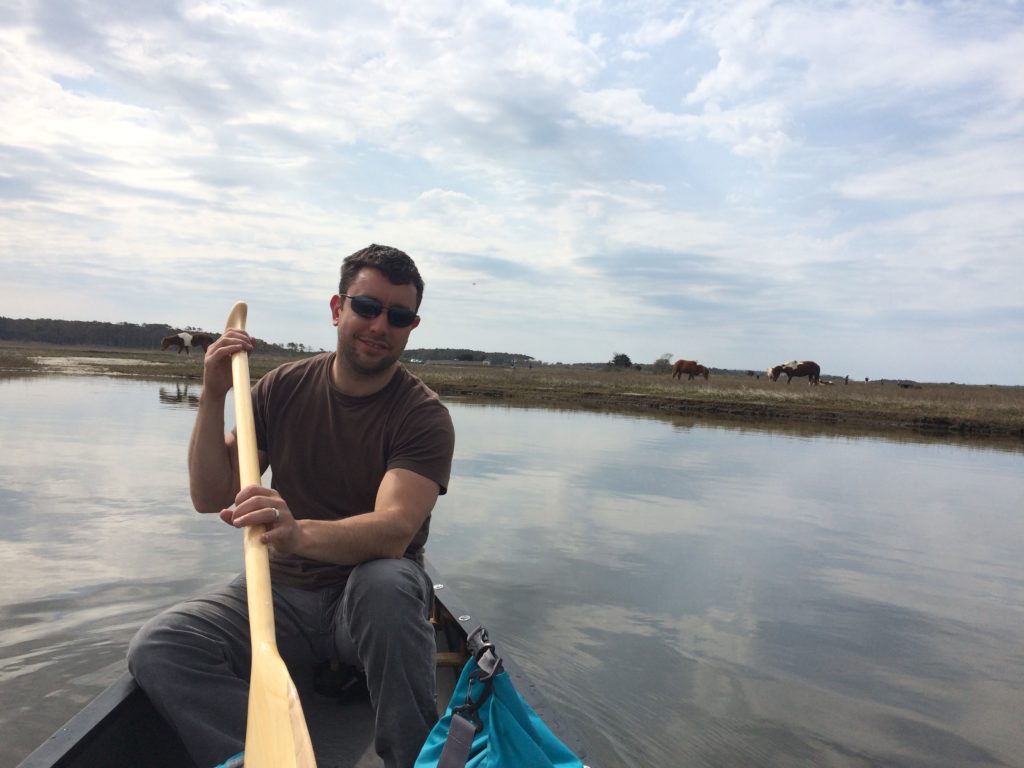 Paddling to our left put us into some super shallow water to get things started. A frustrating few minutes went by and we found our way to the right of the launch in much better water. This also put us in the direction of the ponies and gave us a different vantage point than anyone else who gathered around them. Ponies are pretty amusing to a dog that's never seen such a thing. Rigby perched her front paws on the tip of the canoe to investigate as we drifted by taking photos.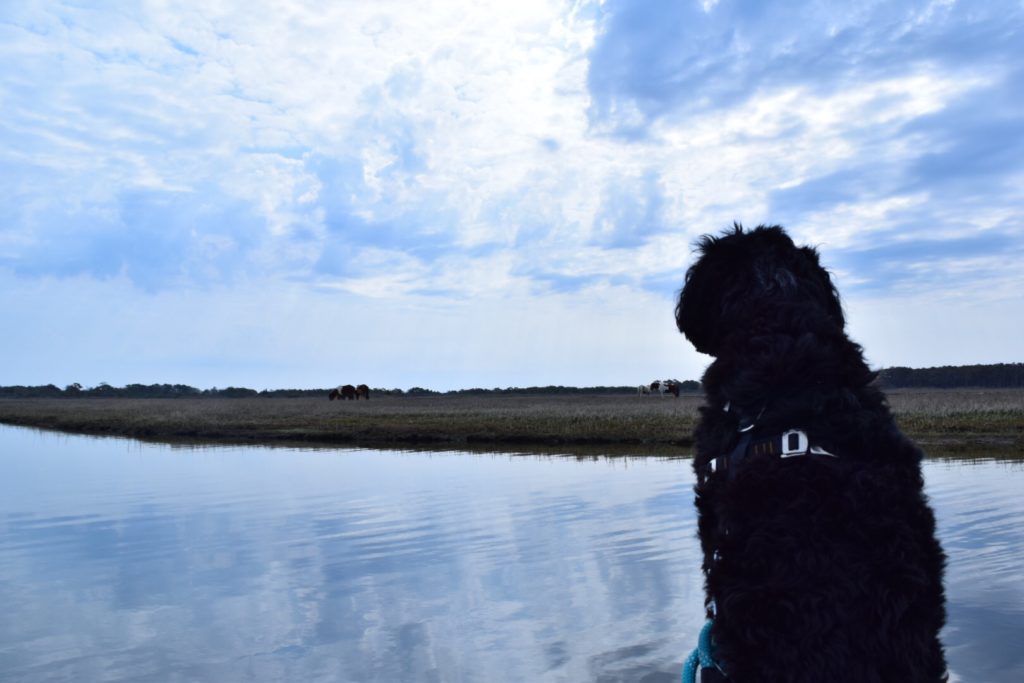 After some time with the ponies we paddled on, headed south. The bay is quiet and an easy paddle. A few others could be seen kayaking in the distance, but we never crossed anyone's path. We stayed somewhat close to the shore so we could keep an eye out for wildlife, including the possibility for more ponies! We obviously need to brush up on our birdwatching skills because this would be a great place to take in the varieties that live and migrate through this area.
Backcountry campsites
We paddled about one and half nautical miles to the first backcountry campsite on Assateague Island. There are six total backcountry sites that are accessible only by paddling. Each site can hold a number of campers; we counted either three or four fire pits. Dogs are not allowed on backcountry campgrounds so we were not able to stay overnight. We just did a quick exploration of the space. I can tell you there were plenty of traces of ponies around the campsite so you'll likely spot some if you stay there.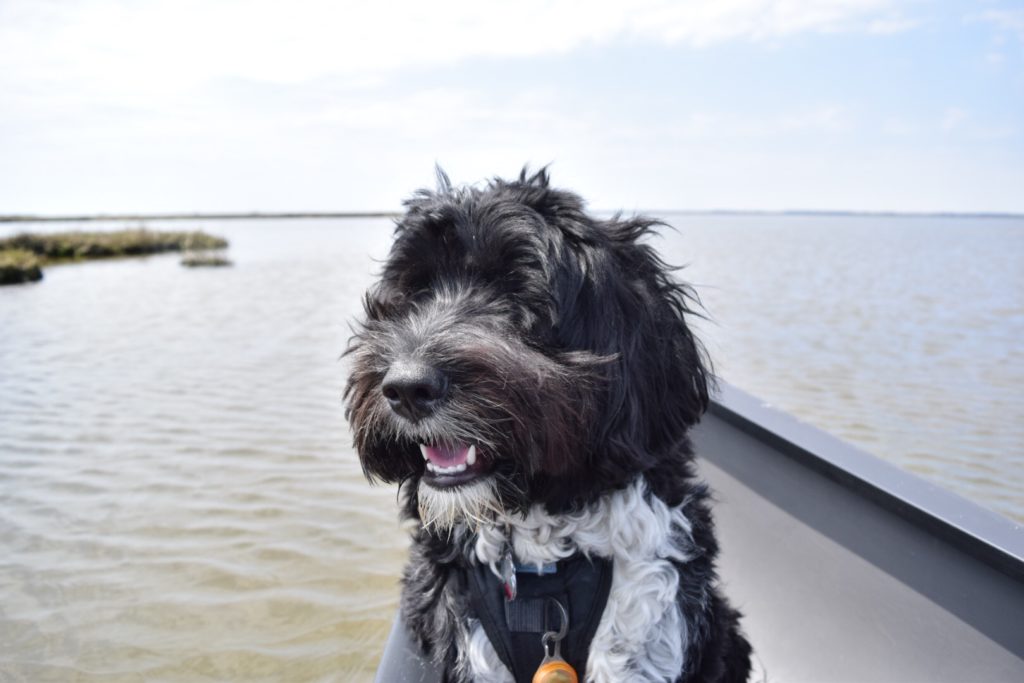 Don't make us turn around!
The journey back to the boat launch was slow going. Not because of the water, but because of our longing for more vacation. A six hour or more drive was ahead of us. You don't want to think about that when you can lay back in the canoe or just sit there drifting and take it all in.
Assateauge Island is a one-of-a-kind experience all-around. It's a worthy spot to check off Maryland on our Canoe 52 list.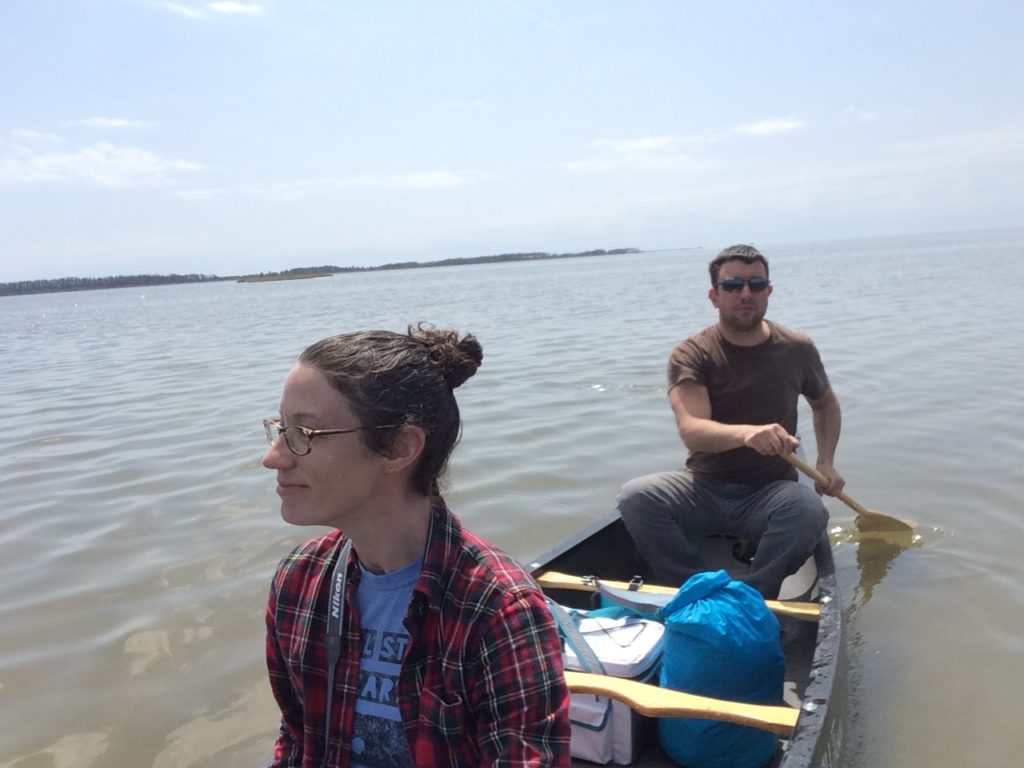 Next stop:
A 4 day paddle down the Connecticut River!