I am a huge fan of Christmas. I love decorating our home, putting up the tree, hosting holiday parties, and spending Christmas day at my parents' house. Since childhood, I've been a Christmas fanatic. From the food we eat on Christmas Day to the ornaments that hang on the tree, I absolutely love it. This year we did the holiday traditions, but it was a little more low-key in order to accommodate a Canoe 52 paddling vacation on winter break. Tony has from Christmas to New Year off from school so we decided to make the most of the time off and head for warmer climates to throw the canoe in the water. We made our way to Alabama and the Coosa River.
The Roadtrip
We loaded presents into the car on top of all our gear and spent Christmas morning and afternoon with my fam. At four o'clock we stuffed some cookies and brownies in a bag, said our goodbyes and hit the road for Wetumpka, Alabama. This was our first major road trip with Rigby so we originally planned to do an overnight a little less than halfway through the drive, but after an AirBnB accommodation fell through we decided to take the risk and drive through the night. We are SO glad we did. Rigby is a superstar travelling pup. She was around seven and a half months old for this trip so she's still a puppy, but she was so well behaved the whole ride down. With about an hour's worth of stops for gas, rest areas and puppy walks, we made it to Wetumpka by 9:15am on December 26th.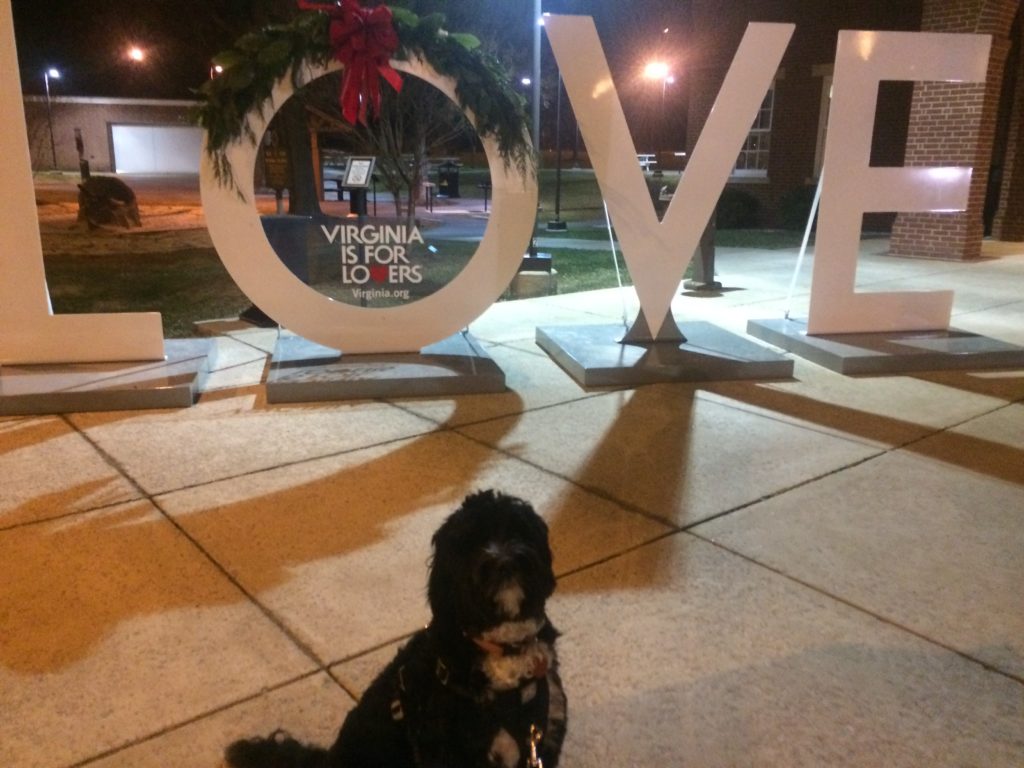 Alabama History
Our AirBnB host let us check in right away at our cabin in the woods; the perfect retreat from our busy lives. The cabin was built by our host (Jim) about 10 years ago. It was spectacular and the wood heated hot tub on the deck was a fantastic bonus after the long drive.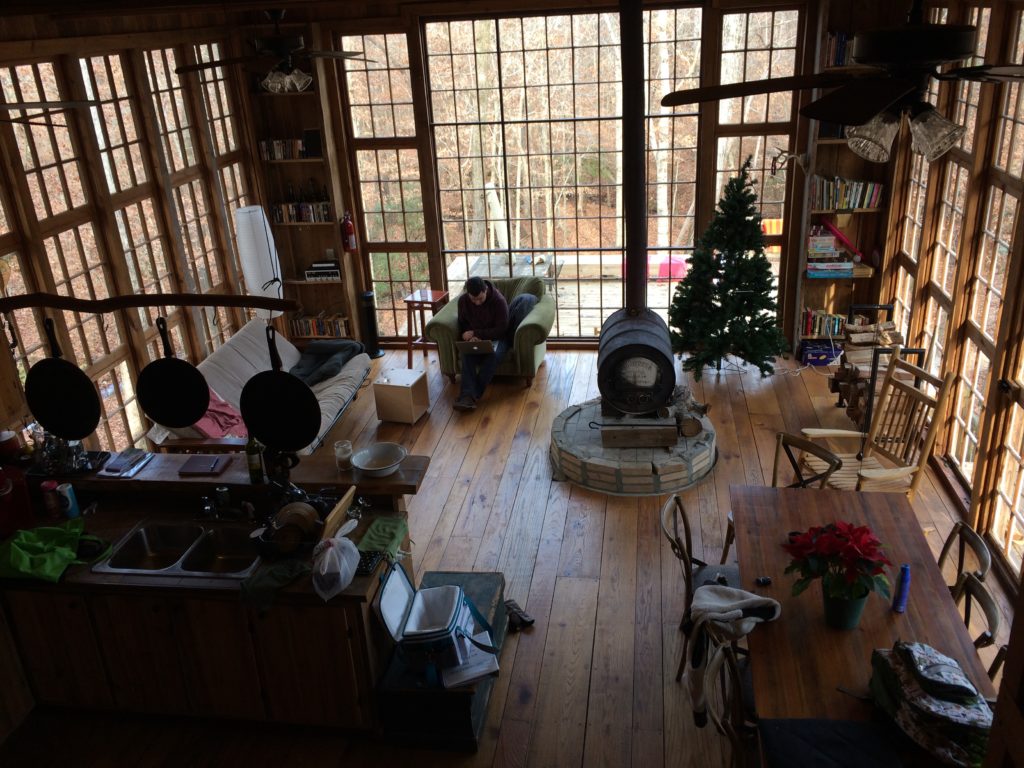 Wetumpka, Alabama is about 30 minutes East of Montgomery. Since we are both historians, we couldn't pass up driving out to Selma and following the route of civil rights activists who marched from Selma to Montgomery over 50 years ago. We crossed the Edmund Pettus Bridge where marchers faced military-like police on Bloody Sunday. After spending some time in Selma, we drove along the route marchers walked to Montgomery. Key sites were the spot where Rosa Parks famously protested giving up her seat to a white man and toured the church where Martin Luther King preached for almost a year during the bus boycotts. The experience is surreal.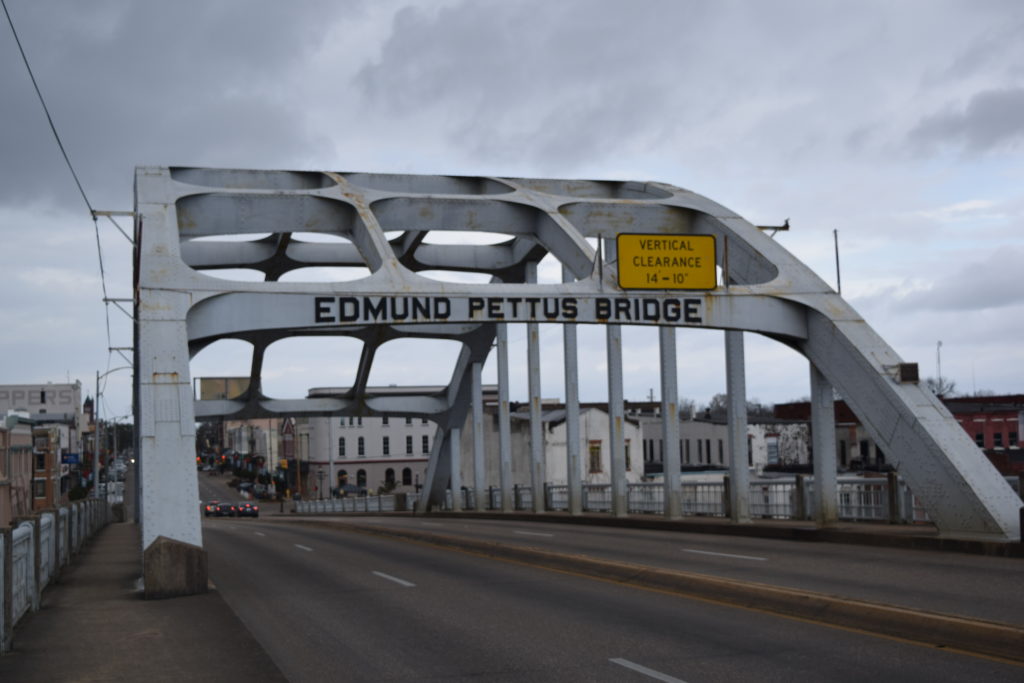 Canoeing the Coosa River
The following day we did what we came to Alabama to do, canoe. After driving across a good portion of the state we realized how flat Alabama is, but that's not the case for Wetumpka. A meteorite smashed into the area that is now Wetumpka about 80 million years ago so Wetumpka has a rocky feel to it. The impact of the meteor can be seen from the Coosa River, the river we decided to paddle. Jim was amazing and reached out to the local paddling folks to get water conditions and hooked us up with a put in and takeout spot thanks to Lonnie at the Coosa Outdoor Center.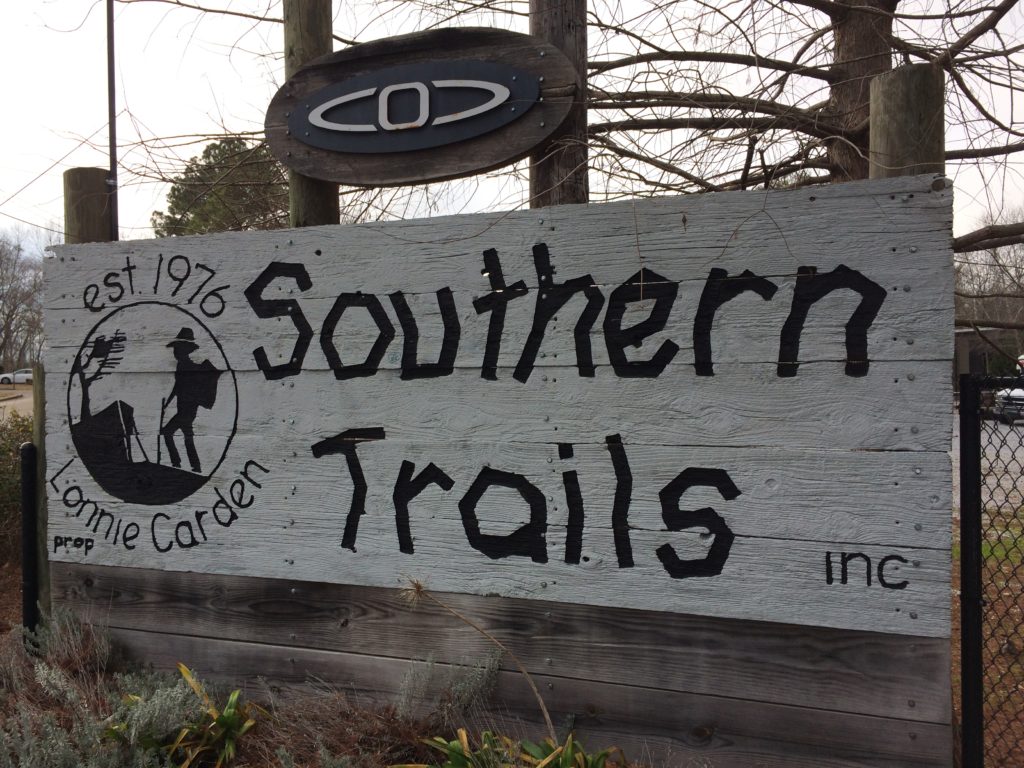 The Coosa is known for outdoor activities, canoeing, kayaking, tubing, you name it. Jim ran shuttle for us, allowing us to drop off our car at the take out and he drove us with the canoe to the put in. A stellar host, for sure. We put in at the Jordan Dam and spent about 30 minutes drifting and taking in the scenery. Blue Herons, ducks, and interesting rock formations sprinkled the shores.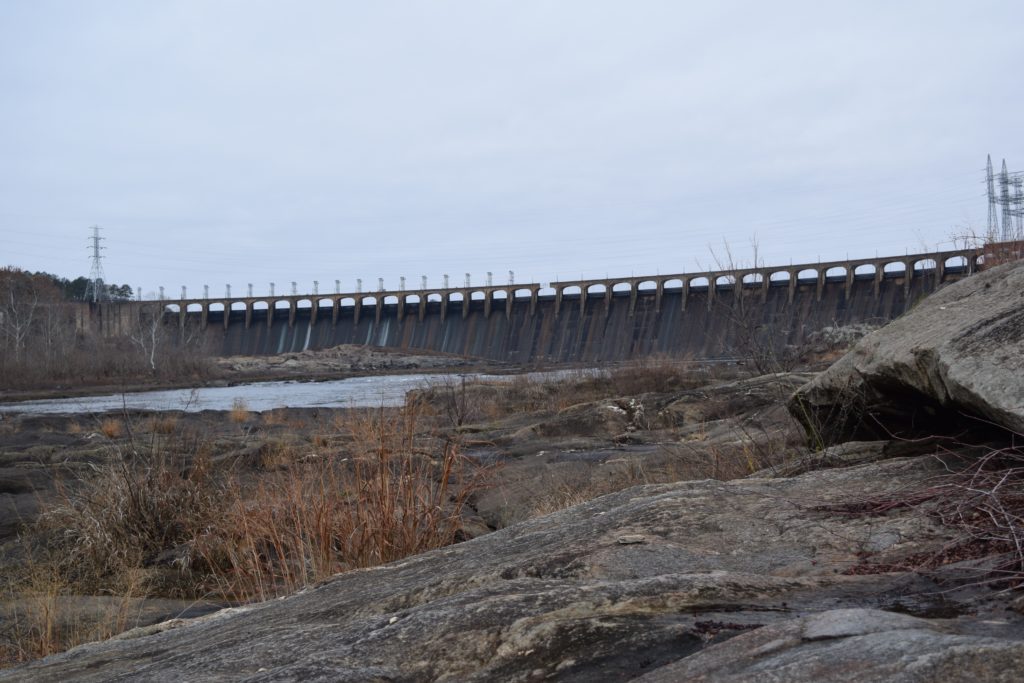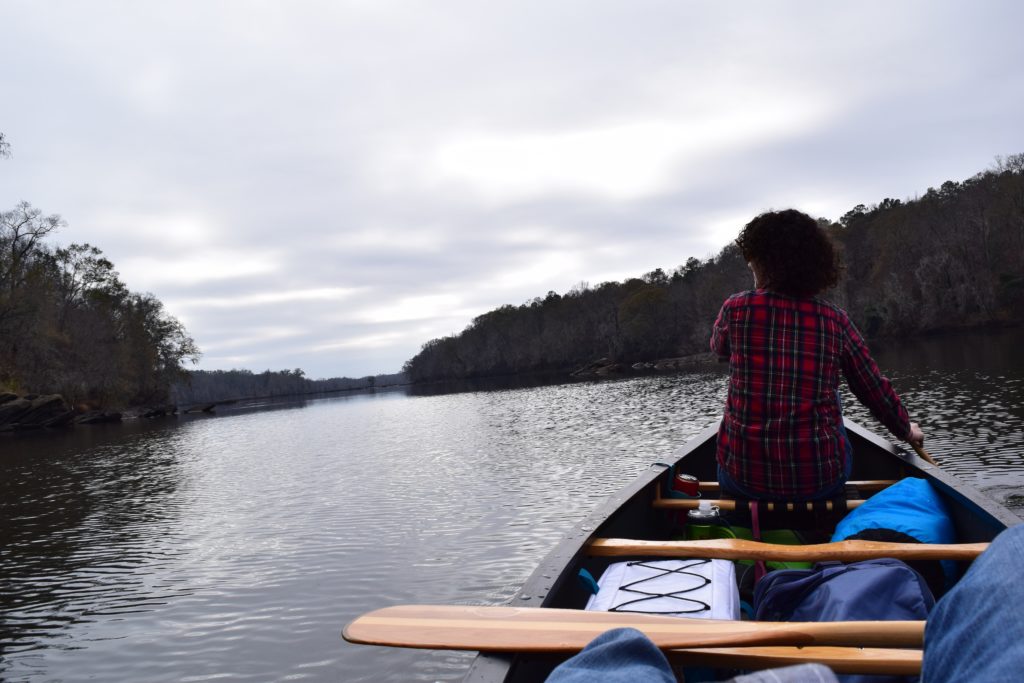 Drifting wasn't the nature of this paddle, our first real experience with rapids in our canoe. We've hit mild rapids in Connecticut, but nothing like what was in store for us on the Coosa River. With Rigby sitting closely between my legs in the front of the canoe, we took on two sets of Class I/II rapids. We took our time approaching them and scouted out the best route. We're in a canoe, not a kayak, so maneuvering tight paths is not possible. The rapids came and went without trouble.
Moccasin Shoals
The third set was going to be much bigger at Moccasin Shoals. With some prior research, we found out that a large rock in the middle of the river divides the Class II rapids on the left of the Coosa River from the Class III rapids to the right. It also made a great spot for taking a break, eating lunch, walking the dog, and really scouting out what path was best for us. This area is a hotspot for watersports in the summer, especially for kayakers.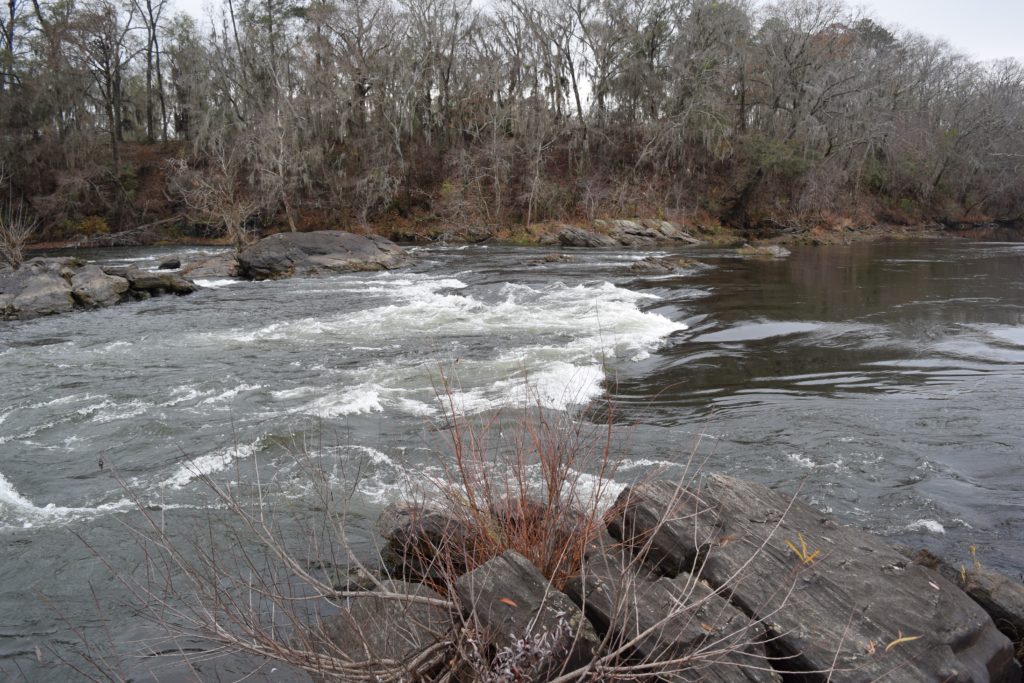 Although the right side seemed to have stronger rapids, we saw much easier maneuverability going that route so we decided to put on our life vests and go for it. As I've mentioned before, I live for the adrenaline rush, so this was a blast. It's all about communication with two people in the canoe. I'm shouting directions from the front and counting on Tony to steer us in the right direction while I assist with guiding the way. I also take on the responsibility of keeping Rigby safe through this. She is fantastic at following commands and has figured out that sitting close to me is her best option. When you have a dog in the canoe, we recommend plenty of treats on hand.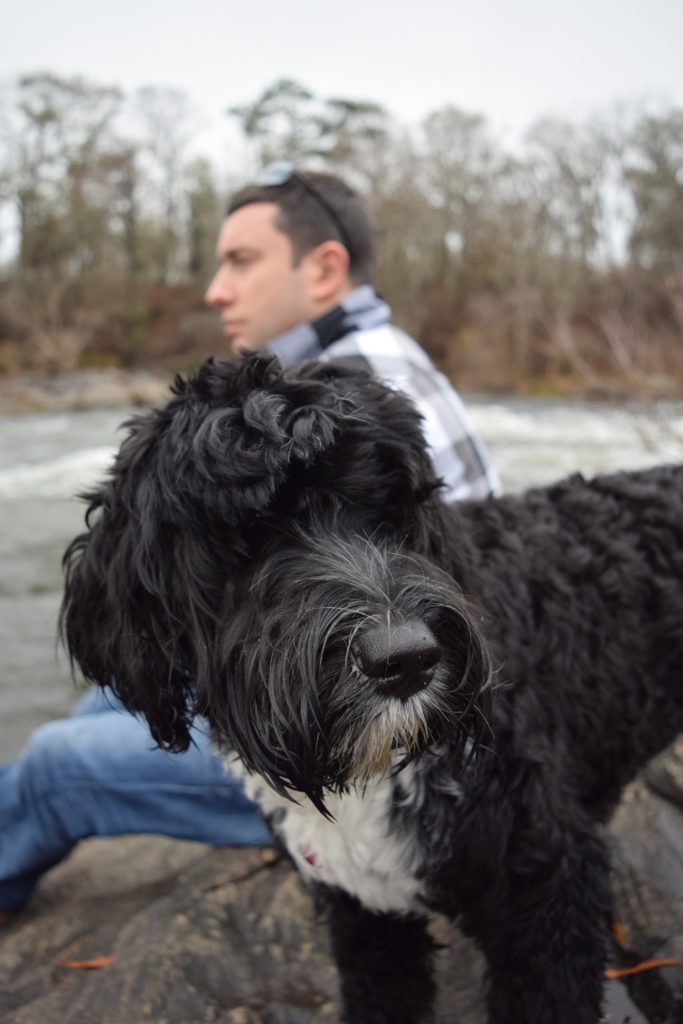 Corn Creek Shoals
According to online guides we made it through the toughest of the rapids, but in reality that wasn't the case. We were preparing for lighter rapids at Corn Creek Shoals. The sound of rushing water as we approached sounded anything but light. We could see a kayaker standing on a small rock scouting his route. Dressed in a wet suit and equipped with a life vest and helmet, he was ready for some winter rapids. We on the other hand came in with different expectations. We slowed down, quickly scouted a route and said, "Here we go!"
Unfortunately the route didn't seem so great as we got closer. We attempted to change course, but our proximity to the rapids wouldn't allow us to change routes unless we wanted to go down backwards!  We sucked it up and went in. Again, I shouted directions from the bow and put my trust in Tony that he would maneuver us through. It was exhilarating. As we crashed through the Class III rapids a wave of water soaked Rigby and I. She earned extra treats that day!
We laughed and patted ourselves on the back for superb communication skills and making it through without tipping over or smashing into a rock. The canoe took on water so having a bailer handy was great. Altogether it was about a four hour paddle. One we'll reminisce about for a long time. "Remember when we almost went backwards down those rapids in Alabama?"
Next Stop: