After spending the morning at Sleeping Bear Dunes National Lakeshore, we were ready for more adventure. Thanks to Traverse City Tourism, we were able to experience
Bike and Brew: a kayaking, biking and brewery hopping tour of Traverse City.
We're canoers, not kayakers, but we were really excited about trying out this concept. The fact that Rigby could tag along was an awesome bonus. They haven't had many dogs on their tours, but they were welcome to her participating.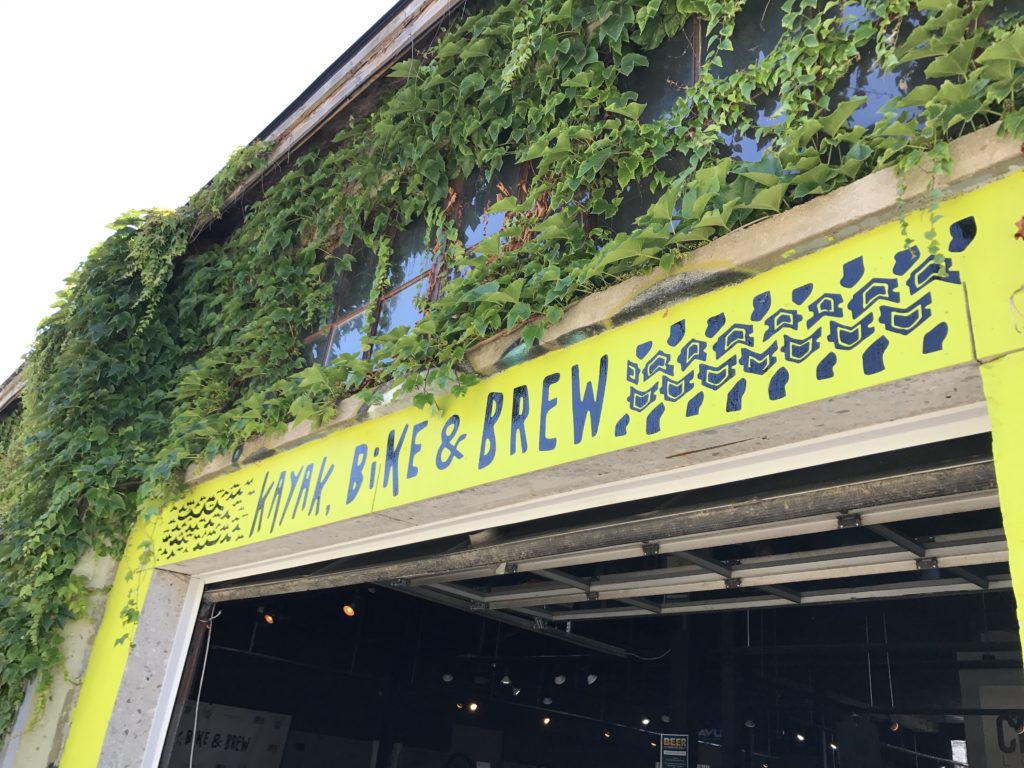 Our tour guides, Paul and Lucas, were incredible and they took an immediate liking to Rigby. This was our first time biking with our dog so we stuck to the back of the group with Lucas who was in charge of rounding up any stragglers. I'm guessing there were around 20 people on our tour. The bike tour kicks off at their headquarters and cruises along the West Arm of Grand Traverse Bay.
Right Brain Brewery
After about two miles of biking we arrived at Right Brain Brewery. Each brewery stop is about 40 minutes long, which gives you a chance to enjoy one or more beers, depending on how fast you drink, and even food.Tony and I both love hoppy beers so we went with IPAs. Tony tried the Dead Kettle, an American style IPA with citrus aromas (5.8% ABV). I tried the Concrete Dinosaur, a brown rye IPA (7.2% ABV). Both beers get thumbs up in our book.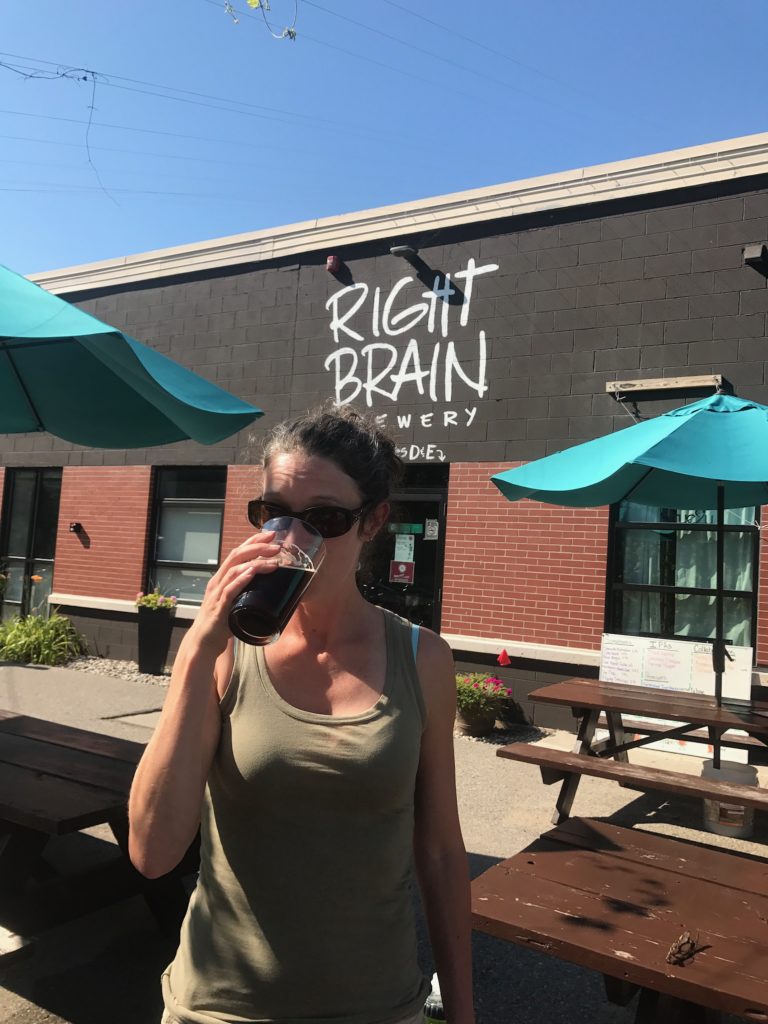 The Filling Station
Next stop, The Filling Station Microbrewery. We hopped on our bikes and pedaled for about another mile. The Filling Station has two of my favorite things, great beer and great pizza. Most New Englanders, like me, love thin crust pizza. The Filling Station makes a great thin crust. I ordered us a Firebox Pizza (without the chicken). The bartender warned me about how hot it is and so did the menu. I went for it anyway. If you like fire-hot food, this is the pizza for you. It was delicious, but beware of the peppers. I also chose two IPAs for us to try. We went with the Walla Walla, a light-bodied beer with an essence of grapefruit (7.6% ABV) and the Huntington IPA, a malty IPA with a bit of a pine taste. Again, awesome beers were enjoyed by both of us.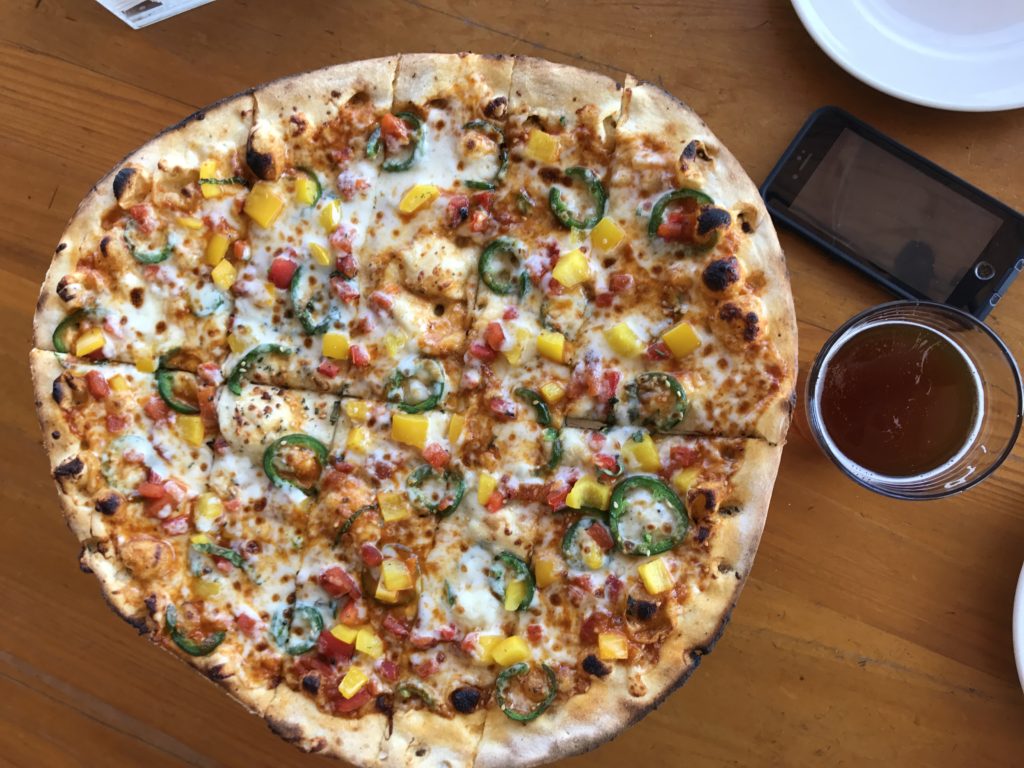 Now it was time to launch our kayaks into Boardman Lake at Hull Park. Tony and I had a tandem kayak, something we were a little nervous about after our slightly traumatic first experience kayaking together.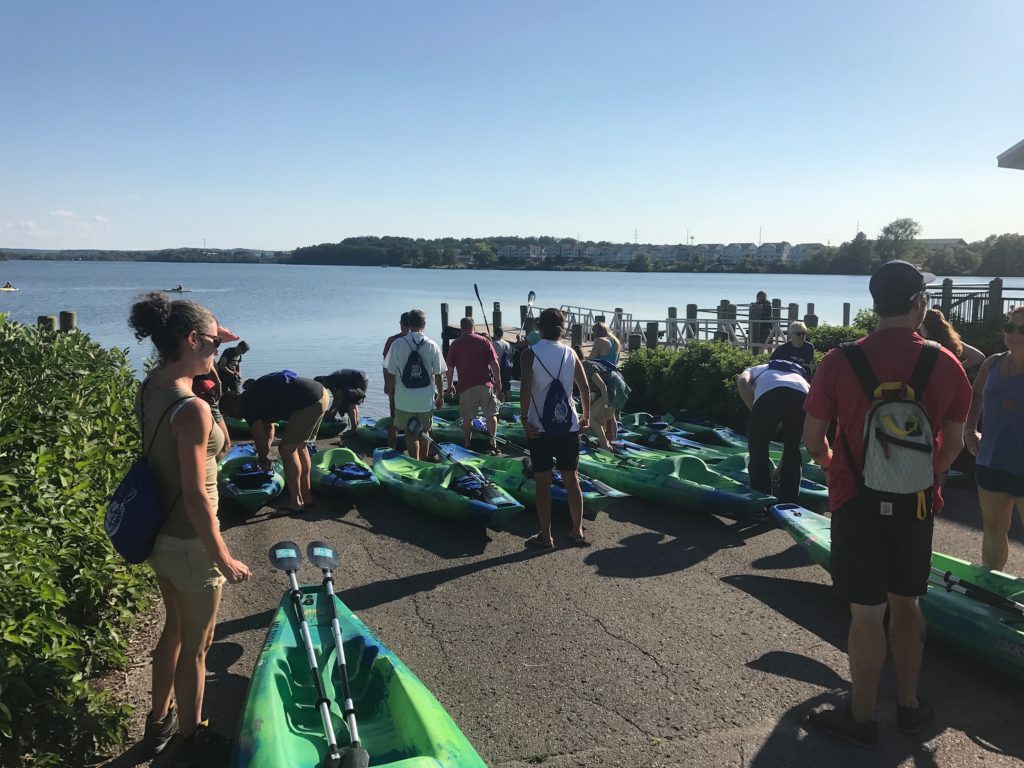 Rigby hopped in front with me and we paddled down the Boardman River for an urban kayaking tour through downtown Traverse City. You get that paddling down a canal feeling with shops and homes that look down on you.
Rare Bird Brewpub
Next, we paddled to Rare Bird Brewpub. Here we had to portage the dam, drop our kayaks off at the other side, and then walk just a short distance. The brewpub has a great atmosphere inside with leather couches and rustic decor. We got a chance to chat with fellow Kayak Bike and Brew participants and enjoy more brews. Since we are paddlers, I had to order the Dam Paddlers, a light beer with a lime taste (4.2% ABV). It wasn't really my style of beer, I only got it for the name. Tony went with Buncha Knuckleheads, a medium bodied beer with Citra, Simcoe, and Mosaic hops (5.7% ABV).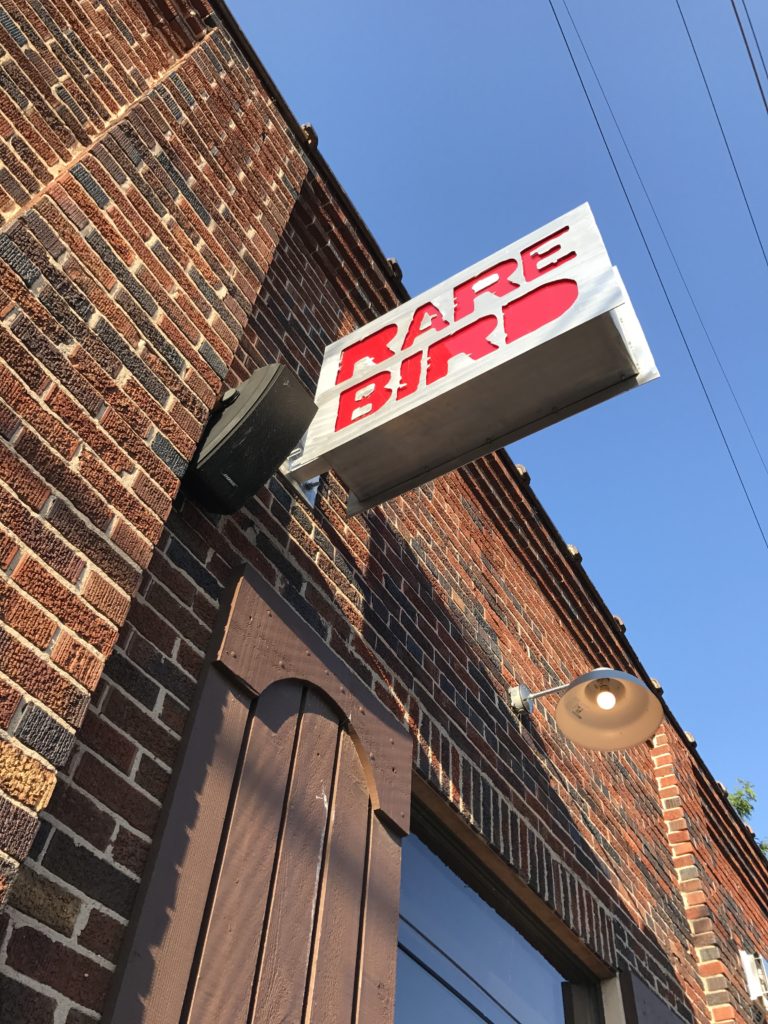 After wrapping up at Rare Bird we continued down the Boardman River in our kayaks, which opens up into West Grand Traverse Bay. The bay can be a little choppy so the group stays close to the shore for those not familiar with open water.  Take out is near Clinch Park Beach. From there we walked back to Kayak Bike and Brew to buy a t-shirt and say farewell. There is an option to grab another beer right next door at the Workshop Brewing Company. We grabbed beers there the night before (also delicious!) so we opted to try one more spot for dinner and drinks before heading back to camp.
Dinner on our own at the Blue Tractor
Despite my wet pants from the kayaking, we stopped at the Blue Tractor on a recommendation of someone we met on our tour. Since Rigby was with us we sat outside in the beer garden, called The Shed. A highlight of our visit at The Shed was the Doggie Menu. Rigby scarfed down the "Healthy Hound," salmon, peas and carrots over brown rice. After a beer we called it a night.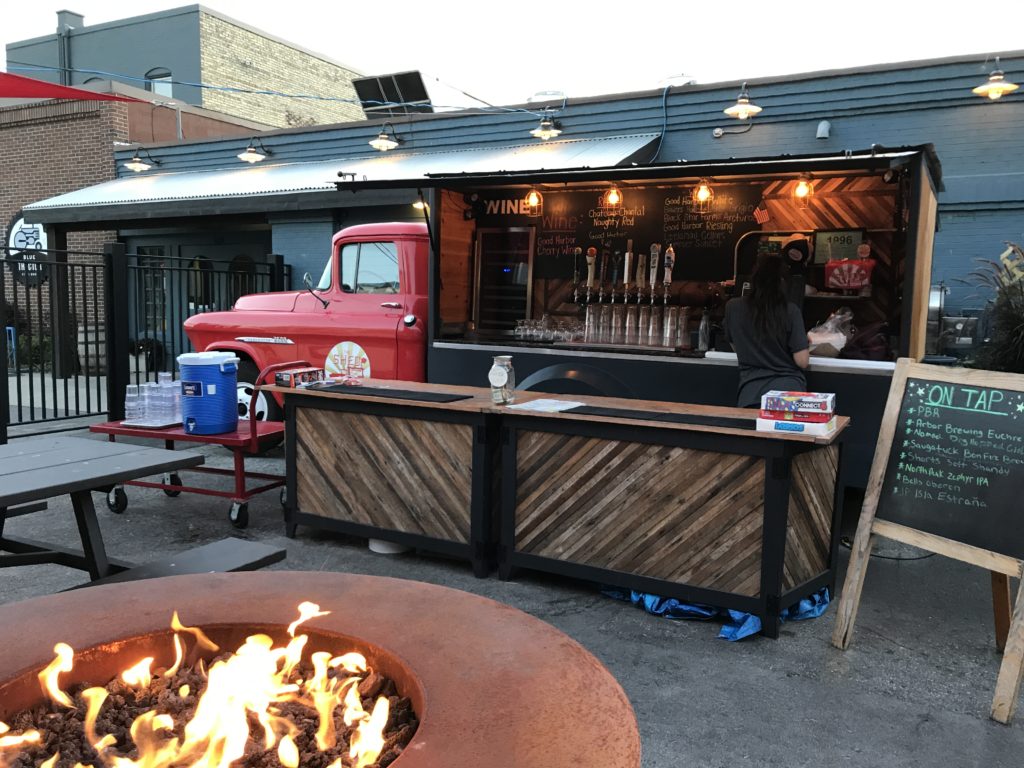 Kayak Bike and Brew is a great way to enjoy an afternoon/evening in Traverse City. The whole tour was about 4 hours.
Our experience with Kayak Bike and Brew was sponsored by Traverse City Tourism, but all opinions are our own.